eLearning Libraries
Enterprise-wide eLearning for Operations and Maintenance Personnel
ePilot™ Learning Libraries allow you to incorporate effective elearning into your development programs with hundreds of courses and thousands of hours of industry-validated content. Proven instructional design methodology and advanced web technology provide effective knowledge transfer for learners.
New eLearning course series: Basic Operator Training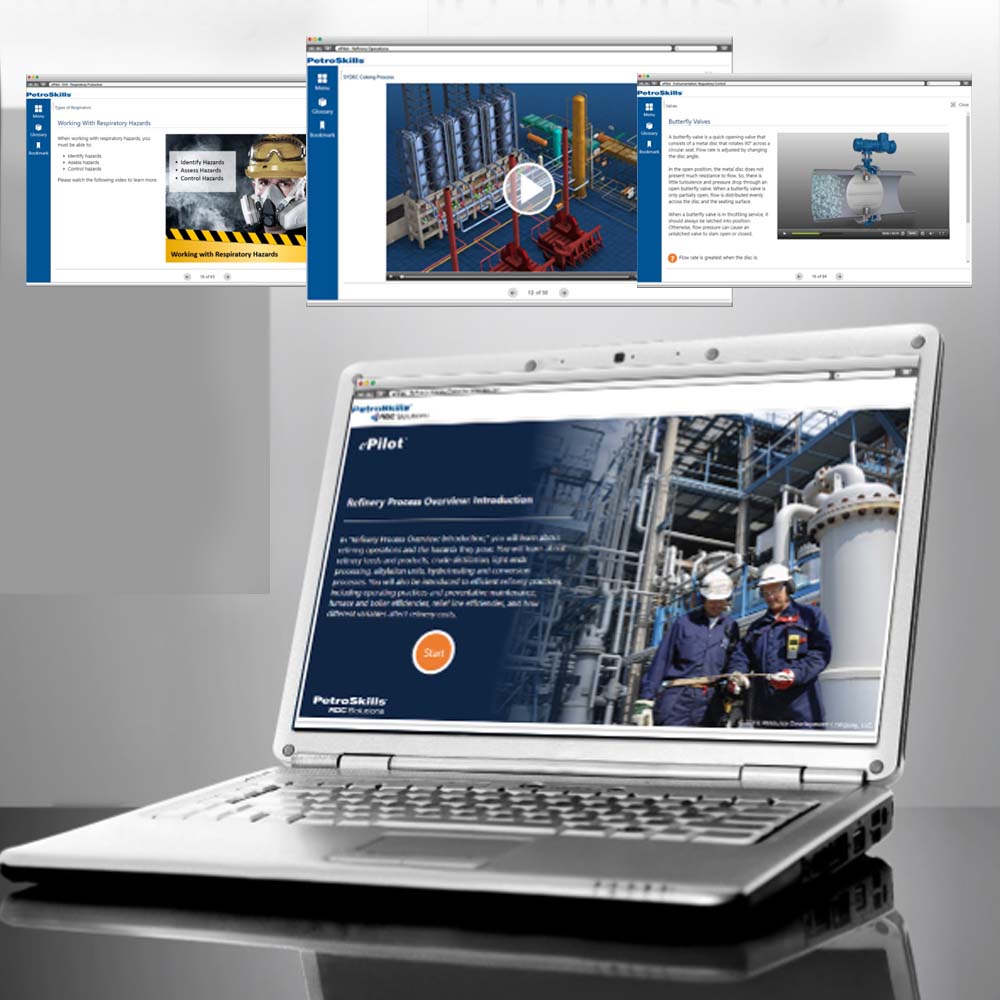 Develop a More Resilient and Skilled Workforce
The ePilot™ elearning libraries enable companies to start using well-balanced industry-driven content immediately without having to develop their own. Enterprise subscriptions include unlimited access to all e-learning modules in a library, from EHS to technical skills and unit operations.
Identify & Bridge Knowledge Gaps
With pre- and post-assessments so that you can track, report, and remediate any training gaps.
Assure Competency & Compliance
Develop an enterprise-wide training standard with attention to site-specific requirements.
Looking for hard copies of this training material?
Programs In Learning Operating Techniques - PILOT®
Our knowledge transfer focus began 50 years ago as the exclusive developer of the PILOT Process Operations training. The original Programs in Learning Operating Techniques (PILOT) workbooks were developed for operators in a traditional learning format and have now evolved into the web-based ePilot Learning solution. These printed PILOT workbooks can be purchased and leveraged for classroom-based settings.
Comprehensive Topics - Distillation, Instrumentation, Valves, Pumps, Compressors, Fluid Mechanics, Fire Fighting, and Gas Measurement.
Industry Standard - Specifically designed for operators, it is the official PILOT process operations curriculum developed for the American Petroleum Institute.
Proven Instructional Design - Content meets stringent industry association standards to facilitate learning, improve proficiency, and meet compliance requirements.
Ideal for Classroom Settings - For users who prefer a traditional learning format or where computer access is not available or permitted.
Workbook/Video Topics include Distillation, Instrumentation, Valves, Pumps, Compressors, Fluid Mechanics, Fire Fighting, and Gas Measurement.
To place a workbook order, please email us.