PetroSkills Simulation Solutions Delivers First Virtual Simulator Course
In May, PetroSkills|Simulation Solutions delivered its very first series of virtual simulator courses. As a company, we are very excited about this success and the ability to connect professionals around the globe with our team of expert instructors.
The 2 courses were delivered to a Trinidad clean GTL Energy company over the course of four days with the goal of giving console operators the knowledge and confidence to act when things go wrong within their process units. This simulation based course is a Hands-On Training System using a range of generic process models (Heat Exchanger, Flash Drum and Distillation simulators) and realistic DCS system emulations. The course allows each trainee to go through a series of startup and shutdown exercises as well as troubleshooting scenarios. Trainees are given a chance to employ techniques learned to optimize product rates and specifications on a simulated distillation column as the course progresses.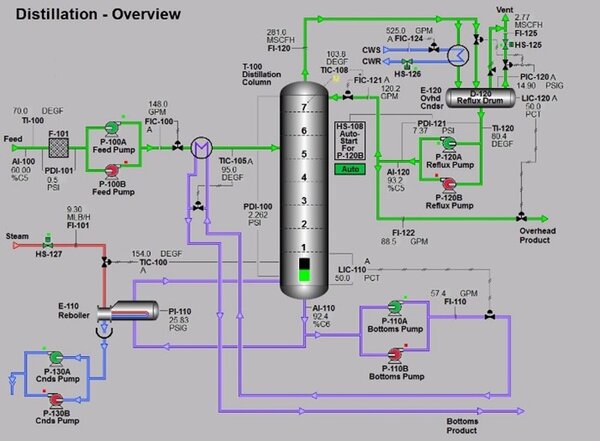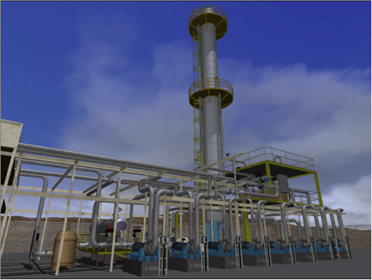 Each individual trainee had access to the both the DCS Simulator and VR "Outside Operator" components
This traditionally face to face course was transformed to be delivered virtually while still preserving the hands-on elements and group discussion that are so critical to trainee-driven learning. Each course consisted of 2, 8 hour days and included 12 process operators. Trainees were in a computer lab at their site and the process simulator was locally installed. Trainees had a dual monitor set up, with the simulator being on one screen while the other was dedicated to Webex (can we use this word?) to maintain the live instructor element. To drive engagement, the Webex voice, chat, and polling functions were used to keep trainees engaged and the learning to a high level.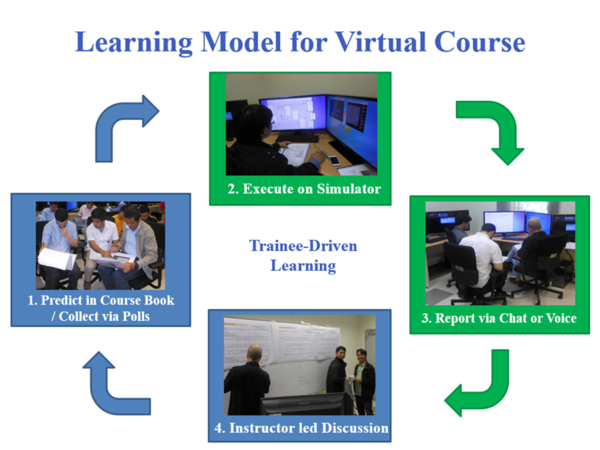 The learning model for the Virtual Course included collecting trainee predictions virtually and then allowing trainees to run scenarios on the locally installed simulator. Instructor-led discussions were used to reinforce concepts.
As a result, the client shared that, "All 24 Operators were very pleased with the effectiveness of the program and the challenges put forward during the sessions. It definitely introduced a new approach to troubleshooting and resolving issues for most and provided a nice introduction to DCS Control Systems to the Junior Operators."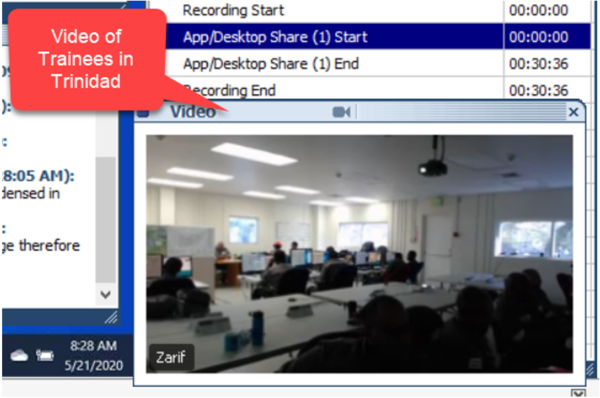 Photo of trainees in their computer lab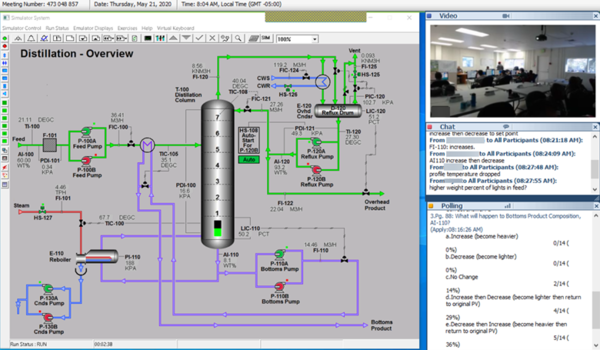 A view of a trainee's Webex screen which includes the instructor's shared screen (left), a video of the trainee room (top right) an ongoing chat window to discuss answers (middle right), live polls to collect answers (bottom right)
We followed up with some of the trainees after their experience with our simulation training course. When asked what they would do differently because of the course, trainees had this to say:
"I will spend more time evaluating causes of trips and failures."
"I will be more confident handling & identifying abnormal operations and using controls in manual."
"Take a little more time to analyze situation and respond more effectively."
We'd like to say a special thank you to this client, and we look forward to similar successful virtual sessions in the future. If you would like to learn about our simulations training, we recommend browsing the Operator Training Simulation Courses or watching our Simulator Demonstration Videos.