Project Management: The Gatekeeper's Dilemma
Working on a project is both exciting and challenging. Project managers and team members are anxious to get funding to be able to tackle the next stage of development. However, we may put our sponsors and gate keepers in a difficult spot if we do not produce high quality decision support packages. Our success as project developers may be at risk if we don't give decision-makers the accurate, concise and complete information they need.
The Gate Keeper's Question
If I approve full funding for this project, how can I know that the company will realize the financial, operational and reputational benefits that are being promised in the decision support package?
Statistics show that: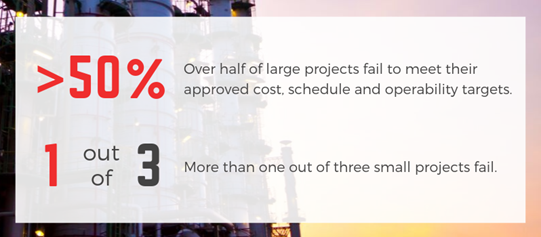 Dilemma: I have to quickly move projects forward while meeting annual spending goals and interpreting information for decision making.
The first step towards answering the gate keeper's question is to understand the capital value process seen below in Figure 1. The stage-gate approach to project development is used to control financial risk. Development is achieved by completing the next logical portion of work and then assessing if the opportunity is still attractive.
CAPITAL VALUE PROCESS
Stages of Development

Stage Approval Gates
Figure 1
The Capital Value Process (CVP) divides the development of a business opportunity into 5 stages, each having a clear set of activities and deliverables that must be accomplished. Each development stage ends with a Stage Gate. The stage gates are major milestones where a management review is required to determine whether a project can advance. Decision support packages (DSP) are produced and submitted to the gatekeeper seeking approval to move to the next stage.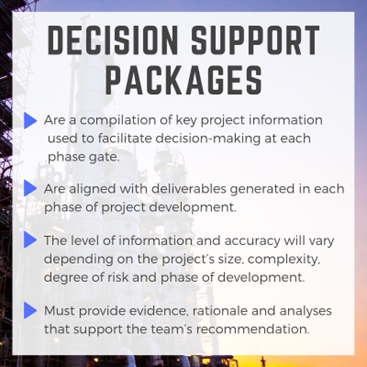 The contents of a typical decision support package include:
• Execution Strategy
• Cost Estimates
• Economic, Operational or Social Measures of Merit
• Overall Project Master Schedule
• Risks and Issues
• Plans for the Next Stage
– Scope of Work
– Schedule
– Resource Requirements
– HSE Compliance
When assembled, the decision support package should answer how the project will be done, the cost, benefits and length of time to completion. Additionally, the DSP considers what could wrong and what comes next for the project. This includes:
– What is the technical specification
– How long will the stage take?
– Resources needed?
– How do we proceed responsibly?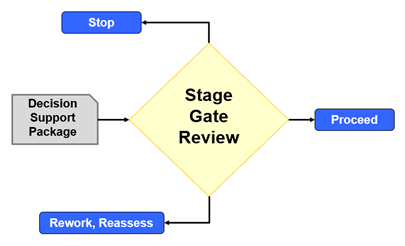 Figure 2
A good decision support package depends on several factors. This includes recommendations that are supported by verifiable evidence and good project definition. Project definition is determined by data validation, technical definition and execution planning. Additionally, DSPs need to be written with clear, specific and logical writing. It is imperative there be unbiased identification and evaluation of risks, constraints, assumptions and benefits related to commercial, economic, technical, health, safety and environmental and political variables.
What Can Go Wrong?
There are several reasons things can go wrong during the project: 1) the development process is not followed and shortcuts are taken, 2) Poor quality control of deliverables (due to insufficient definition) and 3) benchmarking can result in an aggressive schedule or cost estimate. Additionally, 4) inadequate commercial, economic and technical risk analyses can result from untested assumptions, unidentified risks and poor mitigation planning. Lastly, 5) plans for the next stage may be unworkable because they do not match contractor capabilities.
How to Prevent the Dilemma
The following are solutions to the potential problems discussed above.
1. Problem: Development process not followed/shortcuts taken
– Conduct quality audits (self or external) during the stage to validate compliance.
– Hold a peer review 6 weeks prior to starting the approval process.
2. Problem: Poor quality control of deliverables
– At the stage beginning, confirm the right deliverables will be produced and approved by key stakeholders.
– Assess gate readiness using the FEL Index (1), PDRI(2) or PDM evaluation(3) to gauge readiness for gate review.
(1)Independent Project Analysts
(2)Construction Industry Institute
(3)PetroSkills
Problem: Lack of benchmarking
– Compare to similar completed projects using an internal database or external consultant.
Problem: Biased identification and evaluation of risks, constraints, assumptions and benefits
– First, check if a systematic risk management process is being followed.
– Look for omissions in assessments, analyses, studies and evaluations that might taint the work and lead to inaccurate conclusions.
– Ask if assumptions are justifiable and consider how they are shaping your view of the opportunity.
– Challenge constraints. Is there a better solution if a constraint is relaxed?
– What is the reason to believe that key risk mitigation strategies will work?
Problem: Plan for the next stage do not match contractor capabilities
– Use internal engineering, procurement and construction experts to bring expertise into contract and procurement strategy sessions.
– Ask contractors to validate your execution strategy
Conclusion
• Requesting approval for a project that has poor definition, optimistic assumptions, unrealized risk, misaligned commercial strategy and has not been compared to similar completed projects is not in the best interest of any person or company.
• If we relax our gatekeeping standards and accept a DSP with subpar information, we open the door for changes, surprises and poor execution.
To learn more about this topic we recommend enrolling in an upcoming session of Project Management for Upstream Field Development (FPM2).
Other related courses include:
· Petroleum Project Management (PPM)
· Managing Brownfield Projects (FPM42)
· Petroleum Projects Changes & Claims Workshop (PPCC)
Written by: Ken Lunsford